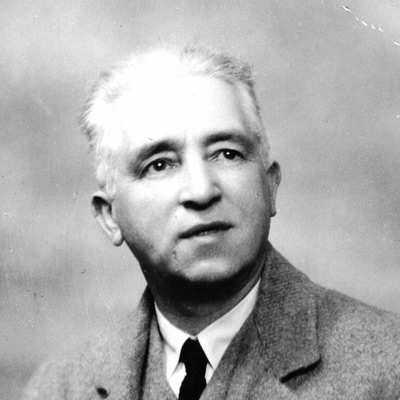 Havergal Brian
William Havergal Brian was born on 29 January 1876 into a working-class Potteries family in Dresden, Staffordshire. He gained his first musical experience in church choirs and, after leaving school at the age of 12, he was in some demand as a church organist. He learned the violin and cello, and played in local bands and orchestras.
A local teacher gave him a thorough theoretical grounding, but he was virtually self-taught in composition. Nevertheless he rapidly acquired an invincible desire to be a composer and in the first decade of the twentieth century began to make a name for himself.
His music was admired by Edward Elgar and Richard Strauss, works of his were performed by conductors such as Henry Wood and Thomas Beecham, and for a number of years he and his family were supported by a wealthy Staffordshire businessman so that Brian would be free to compose. There is no doubt of his success at this time: "Mr Brian has the happy distinction of waking up this morning to find himself famous" wrote the Staffordshire Sentinel after the hugely successful performance in the 1907 Proms of his first English suite. Other works completed, and performed to acclaim, in this period included the fine In memoriam, with its memories of Berlioz and Elgar, and the somewhat Straussian tone poem Doctor Merryheart.
Brian was in his thirties when all this came to an abrupt end, just before the outbreak of World War 1. Various personal crises forced him to leave his home and family. Combined with the appalling global upheaval whose conclusion ushered in a new artistic order, it was inevitable that Brian's musical star never rose again.
After many years of labour, Brian produced two truly epic works, in some senses the counterparts of each other. His Symphony No.1 'The Gothic' (1919-27) is well known, or is at least well known about. Requiring four symphony choruses and an orchestra tipping 200, as well as soloists, children's choir, and four offstage bands of brass and timpani, it is actually one of the more frequently performed of his symphonies, so rare are performances of the others. The other work is a satirical opera, The Tigers (1917-19, orch 1921-29), described by Malcolm MacDonald as "a mixture of broad farce, satires on the military and authority generally, sheer fantasy, dream symbolism, melodrama, absurdist theatre and Marx Brothers anarchy played out against a background of world catastrophe".
Brian then ploughed his own furrow, producing 31 further symphonies (21 of them after the age of 80); four more operas (1951-57); a small number of other orchestral works; a body of attractive partsongs, accompanied and unaccompanied, and solo songs (all vocal music 1906-25); and a little piano music.
Brian's declared wish, symphonically, was to continue along the traditional path of the European Romantic school, though in the event he travelled much further along it than any of his predecessors, and altogether in his own way. As Malcolm MacDonald has put it, stylistically his symphonic music stands midway between the poles of Mahler, for whom a symphony needed to express the whole world, and Sibelius, for whom it had to create a profound inner logic by stylistic unity and severity of form. That Brian succeeded to a large extent in reconciling these two ideals is already evident in his second symphony.
Much as he admired the late German Romantic idiom typified by the work of composers like Richard Strauss, Brian was concerned that his music should be thoroughly English. Moreover, he was determined to achieve this by purely symphonic means, and not to produce an artificial flavour by incorporating folk elements as so many of his contemporaries were doing. However, like Elgar and Mahler, Brian grew up with the sound of splendid brass bands in his ears, and in his music, as in theirs, the spirit of the military march, with its compelling imagery, is never far away. His writing for brass is, indeed, so powerful as to form one of the cornerstones of his symphonic style, and can arguably be said to be at the heart of his very personal and original idiom.
Brian tends to deploy his orchestral forces in a way that is the antithesis of the traditional Romantic style: instead of the main material being carried by the string body, with the brass used to highlight it, Brian structures his orchestration around the brass, so that the strings become the complement. This is to some extent an oversimplification, for Brian's orchestration is too subtle to be pigeonholed in this manner, but it is broadly true. Time and again the brass body is at the heart of the music, and in reading the score the eyes are continually drawn to it.
It must emphatically not be assumed that, because Brian was self-taught, there is anything crude about his orchestration, or that his strange timbres were the result of ignorance or an untrained ear. The truth is that he had a flair for orchestration that far outshone that of his contemporaries such as Bantock or Holbrooke. From the start his orchestration was original and brilliant, and there is, too, little doubt that the difficulties in performance that such scoring raised, as well as the unfamiliar sounds it produced, contributed to the neglect of the music. Brian was an excellent reader of scores, and though his favourite instrument was, and remained, the organ, he had at an early age learnt to play many of the orchestral instruments.
In tandem with a difficult personal life, Brian created a career as a music journalist, not least as editor of 'Musical Opinion' in the mid 1930s. Much of his journalism stands the test of time and is now anthologised by Toccata Press. It reveals an acute, sympathetic and wide ranging understanding of the contemporary classical music scene, as well as European heritage, which completely belies the idea that his later works are idiosyncratic, unrealistic and unperformable.
Brian died on 28 November 1972 as the result of a fall, two months short of his 97th birthday.