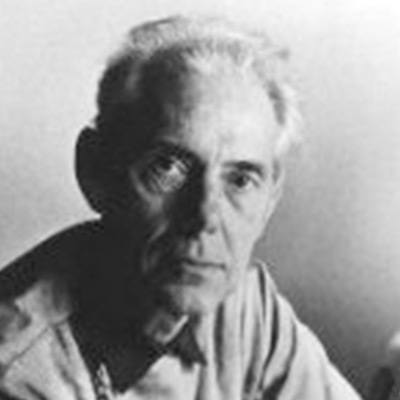 Petr Eben
Petr Eben was born in 1929 in Zamberk, Czechoslovakia, and spent his childhood in Český Krumlov in Southern Bohemia, where he first studied both the organ and piano. On the outbreak of the Second World War he was expelled from school due to his father's Jewish background, and later interned in the concentration camp at Buchenwald, where he spent the last two years of the war. Once the war had ended, Eben was able to take up his music studies again, and in 1948 he entered the Prague Academy of Musical Arts, studying piano with Frantisek Rauch and composition with Pavel Borkovec. Eben took up a teaching post at Prague's Charles University in 1955, and remained a professor there in the Department of Musical Theory for much of his life.
Despite the majority of his time being devoted to composition, Eben was also an esteemed performer, touring the world giving recitals, primarily of his own works, and was well known for his improvisations on the piano and organ. During the unrest of the 1980s, Eben's performances helped promote the revival of Christianity in his country. Sunday morning services at St Jacob's Church in Prague became popular with people longing for freedom from Communism and seeking solace in religion.
Catholicism is a theme which is explored in much of Eben's music, but he also took his inspiration from plainsong, Jewish liturgical music and Czech hymns, along with the work of authors and artists. An example of this can be seen in his stage music for Faust, adapted for solo organ, the original of which was commissioned in 1976 by the Burgtheater, Vienna. Here, Eben musically illustrated the poles of Good and Evil at the heart of Goethe's dramatic work. His other major cycle for solo organ, Job, is based upon the wager between God and Satan on the fate of a human being. Commissioned by the Harrogate International Music Festival, it was first performed in Ripon Cathedral in August 1987.
Eben spent a year as a professor of composition at the Royal Northern College of Music in Manchester from 1978, and was also composer-in-residence at the Dartington International Summer School for the first Czech Week there in 1993 and at Aldeburgh in 1997. Since 1995 he was a Patron of the British Dvorák Society for Czech and Slovak Music. In 2000 Eben was awarded an Honorary Fellowship of the Royal College of Organists and of the Royal Academy of Music, a fitting recognition of his significant contribution to the organ repertoire and his reputation as one of the best-known Czech musicians to achieve prominence in the West.
Eben became something of national hero in his own country as well as in Europe. He maintained an international performing and teaching career, was made a French Chevalier des Arts et des Lettres in 1991 and received a high Czech decoration, the Medal of Merit, in 2002. Eben passed away peacefully at his home in Prague on Wednesday October 24th 2007 after battling a long illness.