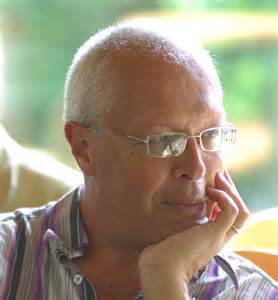 Michael Finnissy
Michael Finnissy was born in Tulse Hill, London in 1946. He was a Foundation Scholar at the Royal College of Music, London, where he studied composition with Bernard Stevens and Humphrey Searle, and piano with Edwin Benboe and Ian Lake. Afterwards, he studied in Italy with Roman Vlad.
He created the music department of the London School of Contemporary Dance, and has been associated as composer with many dance companies including London Contemporary Dance Theatre and Ballet Rambert. He has taught at Dartington Summer School, Winchester College, the junior department of the Royal College of Music and is guest lecturer at many colleges and universities. He has also been musician in residence to the Victoria College of the Arts, city of Caulfield in Australia and is currently teaching composition at the University of Sussex, where he is a Research Fellow, and the Royal Academy of Music, London.
From 1990-1997 Michael Finnissy was the first British president of the International Society for Contemporary Music (ISCM) and in 1998 he was appointed an Honorary Life Member, the only British composer to receive this honour since Ralph Vaughan Williams.
His catalogue of over 240 works includes operas, orchestral works and pieces for voice, solo instrument and chamber ensembles. He has been featured composer at the Bath, Huddersfield and Almeida Festivals and his music is performed and broadcast worldwide. In 1996, to mark Finnissy's 50th birthday, Ian Pace performed the complete piano music, filling six concerts, and has since recorded the hour long works Verdi Transcriptions and Folklore for Metier Records.
Other recordings include Red Earth (BBC Symphony Orchestra on NMC recordings), Banumbirr (Sydney Alpha Ensemble, ABC Classics), English Country Tunes (played by Finnissy himself for Etcetera Records), Mars + Venus and other Ensemble works (IXION for NMC) and the complete works for String Quartet (Kreutzer Quartet for Metier Records). These recordings have received huge critical acclaim in which Finnissy is described as "one of the important living composers" (BBC Music Magazine, 1998) and"Britain's most important avant-gardist" (Classic CD, 1998).
In 1998 Ashgate Publishing published Uncommon Ground: the music of Michael Finnissy, a major study of his music written by Christopher Fox, Ian Pace and others.